Competitive Recruitment and Hiring Process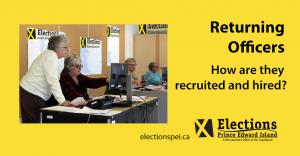 As election administration continues to modernize and advance in technology and process, it is imperative that those responsible for running the elections are knowledgeable and well versed in the ever-changing field of election administration. Returning Officers must be knowledgeable in a variety of digital/computer programs and technologies, which often change between each election. Our current legislation has the government of the day recruit and appoint Returning Officers where needed.  Elections PEI has recommended some changes.
The ability to recruit skilled workers is essential to running a smooth and efficient election. Appointment and removal by the Chief Electoral Officer would allow for the position of Returning Officer to be merit based and assessed for continuation after each electoral event, signifying more broadly the independence of election administration from government.
Our current legislation states there shall be one Returning Officer appointed for the district where they reside.  Following every third provincial general election, an appointed Electoral Boundaries Commission is legislated to examine and adjust district boundaries accordingly, based on the population of eligible electors per district.
As a result of the 2017 Electoral Boundaries Commission, Elections PEI lost four Returning Officers because once the boundaries were adjusted, the Returning Officers no longer lived within the district they were appointed.  The commission also created two new districts, needing two new Returning Officers.
The 2019 CEO Report has made several recommendations for change of legislation, a couple of them are in regards to Returning Officers.
Recommendations:
1) Change the Returning Officer position to be a competitive recruitment and merit based position with appointment and dismissal by the Chief Electoral Officer.
2) To remove the requirement for a Returning Officer to live in the district to which they have been appointed.
For more information, please refer to the 2019 Report of the Chief Electoral Officer of PEI.
For more information, please refer to the 2019 Report of the Chief Electoral Officer of PEI.
You might be interested in...