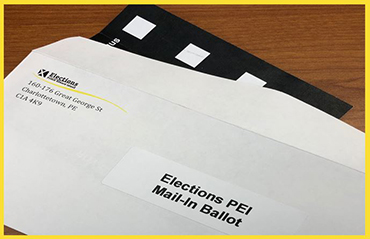 Who is eligible to vote by mail?
You may choose a mail-in ballot if you are: 
away as a member of the Canadian Armed Forces or their spouse (statement of ordinary residence is required under section 19 of the Canada Elections Act); 
Ill or physical incapable of voting at the polling station; 
You are attending school, travelling or temporarily reside outside the province and unable to attend at the advance poll days or ordinary polling day; or
Incarcerated in a provincial correctional institution.
How do I vote by mail?
Complete the mail-in ballot application form and email, fax, or deliver it in person to:
Chief Electoral Officer
176 Great George Street, Suite 160
PO Box 774
Charlottetown PE   C1A 7L3
Phone: 902-368-5895
Fax: 902-368-6500
Toll-free: 1-888-234-8683
Email: info@electionspei.ca
What do I have to send to Elections PEI for my mail-in ballot?
You must send a completed mail-in ballot application with a copy of a Valid Photo ID (PDF) or other unofficial document showing your name, address, birth date and signature to Elections PEI by 6 pm on the 13th day before the election.
What are the deadlines for mail-in ballot?
Your ballot will only be counted if the Chief Electoral Officer receives it at Elections PEI by 12 Noon on Election Day.
Your ballot package will be mailed to you via Canada Post ExpressPost on the 12th day before Election Day.
Can I vote in person at a polling station if I am approved to vote by mail-in ballot?
No. Once your mail-in ballot application is accepted, you may only vote by mail-in ballot.